HOW TO GET TO Le Charme Sukhothai
" THE OLD TOWN OF SUKHOTHAI SURROUNDED BY THE ANCIENT RUINS "
Sukhothai was the first capital of the Thai nation over 700 years ago. The Thai identity that originated way back then is what the Thailand of today has inherited. In order to give due recognition to the extraordinary arts and culture of the Sukhothai period, UNESCO declared Sukhothai a cultural World Heritage Site in 1991.
Le Charme Sukhothai is ideally situated in the Sukhothai Old Town and only 1 km. from the entrance of the Sukhothai World Heritage and Historical Park.
MAP & DIRECTIONS
GPS : N 17.011623, E 99.715063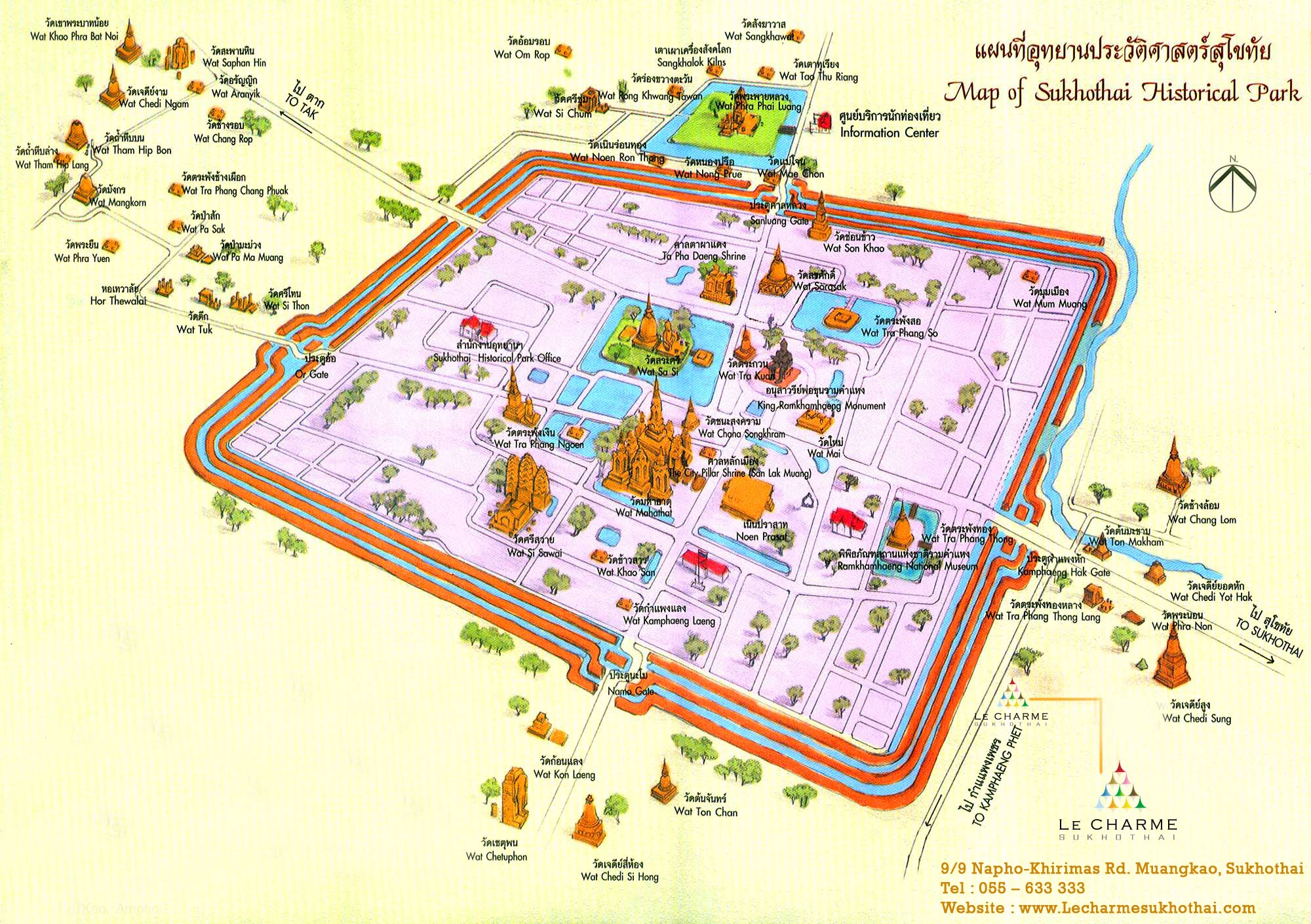 Resort Address
LE CHARME SUKHOTHAI RESORT
9/9 Napho-Khirimas Road, Tambon Muangkao, Sukhothai 64210
Tel: +66(0)55 633 333 Fax: +66(0)55 633 261
Bangkok Sales Office
02 642 5497 (domestic), +66(0) 2 642 5497 (overseas)
Email: [email protected]
www.LeCharmeSukhothai.com
DIRECTIONS
BY BUS
Air-conditioned buses depart from Bangkok's Mochit 2 Bus Terminal to Sukhothai daily between 9.45 a.m. and 10.20 p.m.,frequently during the morning. The journey takes 7 hours. Call 0 2936 2852-66 or visit www.transport.co.th for more information. Private bus companies which operate daily bus services to Sukhothai are such as Win Tour (Tel: 0 2936 3753 or 0 5561 1039), Phitsanulok Yan Yon (Tel: 0 2936 2924-5, 0 5525 8647) Sukhothai Bus Terminal (Tel: 0 5561 3296)
BY TRAIN
There are no trains going directly to Sukhothai. One may travel by train to Phitsanulok and then take a local bus to Sukhothai, about 59 kilometres away. Contact Bangkok Railway Station Tel. 1690, 02223 7010, 0 2223 7020 or visit (www.railway.co.th)
BY AIR
Bangkok Airways flies from Bangkok to Sukhothai daily for 1-hour journey. Sukhothai Airport is about 40 kilometres north of the town.
TRANSFERS
SUKHOTHAI AIRPORT TRANSFER AVAILABLE
Costs of private transfer from Bangkok Airways airport in Sukhothai to Le charme Sukhotha is
: Joined transfer from the airport 300 baht / person (Local Public Bus or Van)
: Private transfer is 1,500 baht / van / way. (max capacity. 8 persons). * Booking in advance required
Distances from Amphoe Mueang to Other Districts
Si Samrong

Kong Krailat

Khiri Mat

Ban Dan Lan Hoi

Sawankhalok

Si Nakhon

Si Satchanalai

Thung Saliam

20

21

22

28

38

54

67

68

kms.

kms.

kms.

kms.

kms.

kms.

kms.

kms.
Distances from Sukhothai to Neighbouring Provinces
Phitsanulok

Kamphaeng Phet

Tak

Uttaradit

Phrae

Lampang

59

77

79

100

165

207

kms.

kms.

kms.

kms.

kms.

kms.